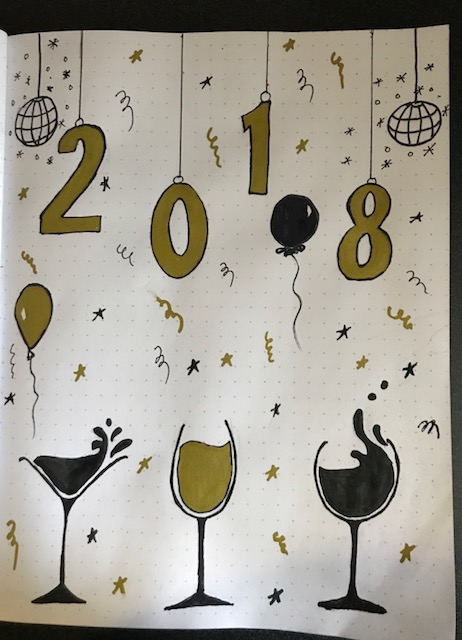 Back in November of 2017, I came across a pin on Pinterest that really caught my eye. The pin was titled "Bullet Journal" and had a picture of a journal with illustrations that accompanied the description. Initially, I thought this journal was another scrapbook or smash book for memory keeping and pictures, but upon further investigation, I realized it was something new altogether.
After gazing at the picture for a few seconds, I proceeded to click the pin to gather more information. To my surprise, it was a completely different concept than I had originally thought. The website had described it as a way to organize your daily life. The journal allowed you to creatively design and customize calendars, to do lists, goals, and trackers for the year. You could even come up with a key to demonstrate which items were complete, in process, or incomplete.
From that starting point, I began to view more pins about the bullet journal and gather more information. The examples I viewed ranged from simplistic to elaborate depending on the person's needs. The ones that were more detailed and creative really caught my eye. They were simply beautiful. The people who created these journals were artists with a variety of skills. The layouts ranged from watercolor to hand-drawn doodles. The possibilities seemed endless when it came to creating a bullet journal spread.
As I continued my research, I stumbled upon another pin that listed ways to utilize your bullet journal for wellness. This caught my attention because my doctor needed me to journal in between my appointments in order to keep track of my symptoms between visits. Since I'm not into writing in journals or diaries, I really didn't perform the task well. However, once I read this particular article on using the bullet journal for wellness, the wheels in my head started turning. The bullet journal would provide me with a creative way to keep track of my symptoms as well as give me an outlet to flex my creative muscles. It also gave me something to look forward to while I was home sick with nothing to do. It actually gave me a little hope that I had been missing for a very long time.
That very day, I started looking online for materials to start my bullet journal. I ordered two journals. One journal would strictly be for wellness, while the second journal would contain my calendar, goals, and to do lists. I also purchased some additional pens and supplies to ensure my journal would look beautiful and reflect my personality.
As soon as my supplies arrived I proceeded to design my wellness journal. Since I had already planned how I would create the journal to work for me, it was pretty easy to set up. I decided to keep both of my journals simple. I only needed specific items in my journals to suit my needs. Keeping my journals simple would make journaling seem more fun instead of a daily chore. Additionally, because my journals would be pleasing to look at, I would have no problem returning to it on a daily basis to fill out my calendars and trackers. Not to mention, I would get the chance to draw and color all of the time which is relaxing for me as well.
The pictures below will show my progression from November when I created my first layout until now. I think as I gained more confidence in my skills and got used to the setup, I got more detailed with my designs.
NOVEMBER
For my first layout, I was a little nervous because I hadn't drawn in a while. So I decided to use a lot of stencils in my design. I chose a fall theme and color scheme since it was November. I think it turned out pretty well for my first attempt, but I knew I could do better the next time around.
DECEMBER
I had a ball creating my December layouts for both of my journals. Since it was the holiday season, I had a variety of ideas to choose from for the month. The possibilities were endless. I settled for some traditional Christmas themes and added in some new ideas in order to stretch my artistic skills. The results were lovely. I was also very proud of my design because I drew all of the pictures by hand.
Wellness Journal
Schedule Journal
JANUARY
For the month of January, I was feeling really confident since my December designs turned out so well. Since January represents the start of a new year and a very cold month to me, I created layouts which featured cold weather as well as items to keep you warm. I love drinking tea during the cold months in order to keep me warm and toasty, therefore, I made sure I included it in my design for the month of January.
Wellness Journal
Schedule Journal
I will continue to update my journals on a daily basis. Stay tuned for more designs and updates throughout the year.