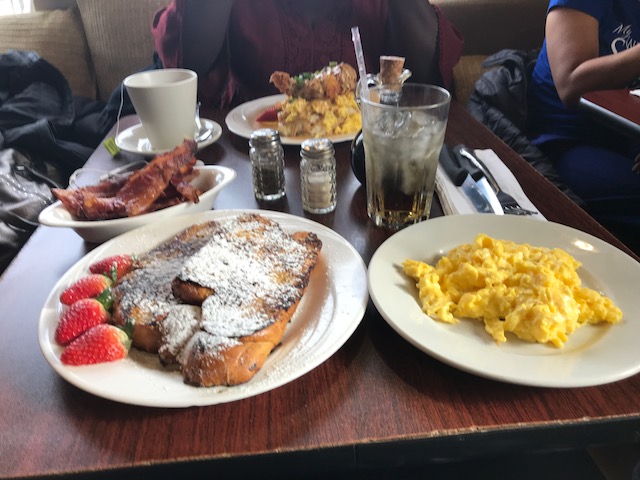 During the second week of January, my cousin and I scheduled a morning breakfast date at the Milk and Honey Cafe in Beltsville, Maryland. We were excited about our outing because we had tried to eat there once before, but the crowd in the parking lot was so large and the wait was so long, that we decided to leave and head up the road to IHOP instead. We scheduled this breakfast for a Tuesday morning hoping that there wouldn't be a wait list because most people would be at work at 10 am.
When we arrived, we were immediately seated. The venue itself was small. Located in what looks like to be a large double wide mobile home connected to another business. Despite its location and outward appearance, it was comfortable and nicely decorated on the inside. The place was already bustling and filled with customers. It appeared that we made it just in time.
Once we were seated, we scanned our environment to see what other people were eating. Every plate looked like a culinary masterpiece. Everything that came out of the kitchen looked scrumptious, which made it even harder to decide what to order from the menu. Fortunately, the menu isn't large so we were able to make a decision fairly easily. I decided to order to french toast, eggs with cheese, and bacon. My cousin ordered the chicken with biscuits and gravy. Finally, after agonizing over whether to order the strawberry shortcake or not, the couple sitting next to us gave it such rave reviews that we had no choice but to order the dish for ourselves. You only live once.
Our food came out fairly quickly. The portions were fairly large. A person would definitely leave full and satisfied after eating here. We both took a bite of our food and were instantly in love with the Milk and Honey Cafe. Every morsel was delicious, delectable, and delightful. All of our dishes were cooked to perfection. The two major highlights of our meal were the chicken and biscuits and the strawberry shortcake. Both were flavorful, sweet, and mouthwatering.
By the end of our meal, we were both on cloud nine. I'm happy to say that we both give the food at the Milk and Honey Cafe two thumbs up. We highly recommend the cafe for your next breakfast adventure. Check out the pictures below of our tantalizing breakfast.