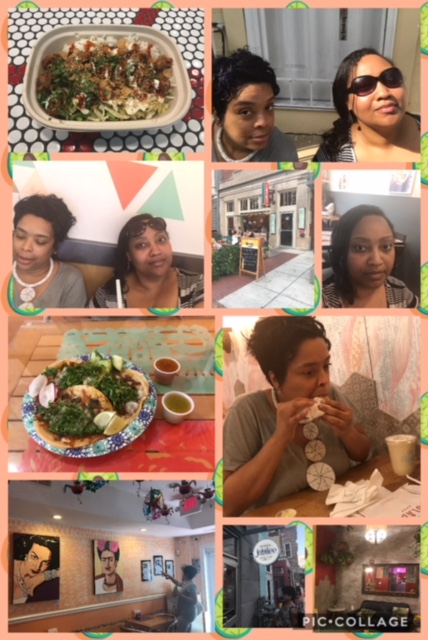 Trying new restaurants is one of my favorite things to do. I love looking at the decor, reading the menu, and tasting new foods. So of course, when my friend Andaiye invited me to try a new restaurant called Doi Moi on 14th street in downtown DC back in August, I jumped at the opportunity. Unfortunately, when we arrived, we found out that they do not open their doors until dinner time. Therefore, we had a lot of time to kill before we could try out Doi Moi's menu. That's when Andaiye came up with the idea to do a Mexican food crawl while we waited for Doi Moi to open up shop.
As we strolled down 14th street, we saw a few Mexican restaurants, but we weren't sure if they were any good. That's when Andaiye decided to ask some of the locals for suggestions. Surprisingly, each person we asked was friendly and quite enthusiastic about providing us with some of their favorite choices and were very informative. Once we heard a few ideas, we made an impromptu list, checked our cell phones for the locations, and proceeded to the first destination in our restaurant adventure.
1. Takorean – As soon as we walked in, we quickly noticed that the menu set up resembles Chipotle because it requires you to choose your meal in stages (style, slaw, protein, add-ons, & toppings). We slowly approached the counter trying to figure out what to order. The staff immediately noticed our puzzled newbie looks and quickly offered assistance as we tried to navigate the menu. We both ordered bowls, but with different proteins and toppings. After we made our purchases, we sat down at a table near the front of the store. As soon as the food hit our tongues, we instantly knew it was packed with flavor and very satisfying. Takorean instantly won us over and quickly turned into Andaiye's favorite place on our restaurant tour.
2. Taco El Chilango – Our second stop on this crawl is located in a residential neighborhood. If it weren't for the locals, we would have never known this place existed. The restaurant itself is small on the inside. It has colorful festive decor and paintings on the wall of famous people. The staff was friendly as we took our time to order a few soft tacos to taste. The tacos were very tasty. Overall, we enjoyed our experience in this lively establishment.
3. Colada Shop – Our third stop was located off of 14th and T street. The little shop was packed with customers that were easily seen from the sidewalk before we walked in. The shop itself was brightly colored with pastels and was bustling with energy. It was easy to see that this was a very popular spot for people to visit. We were told to order empanadas by a very friendly customer in line. So we took his advice and ordered the empanadas along with two virgin pina coladas. We then traveled to the back of the shop which provided extra seating and dug into our purchases. We enjoyed every morsel. So we give the Colada shop a thumbs up because the food was good, the coladas were refreshing, and the atmosphere was fun.
4. Taqueria – The fourth stop on this tour was located inside a renovated post office. This seemed to be another popular establishment along the 14th street corridor. Since the place seemed to be a popular spot, we had to see what all of the fuss was about. So we proceeded to check out the menu and put in our order. We took a seat near the front of the establishment and took a bite of our food. Unfortunately, out of all of the places we had visited that afternoon, the food at Taqueria was the most disappointing. It looked good, but it was too salty to eat. The best thing about this place was the decor and the people.
5. Jubilee – This cute ice cream shop was located on the same block as Colada and Taqueria. When we walked in, we pretty much had the store to ourselves, which gave us plenty of time to taste test a variety of flavors before making a decision. The young man behind the counter was very eager to let us try some of the flavors. He made great recommendations and got a kick out of our reactions to some of the more exotic flavors. It took us a while to make a decision, but once we did, we enjoyed every ounce of our ice cream as we sat on the bench and rested for a minute.
6. Doi Moi – At the end of the day, we finally reached our original destination. Since we had been nibbling all afternoon, we decided to place an order to take home for later. Doi Moi was an upscale restaurant with stylish modern decor and an exotic menu that offered a variety of choices. Since Andaiye had tasted their food before, we quickly put in our orders and took the food home. Some of our favorites from their menu were the brussels sprouts, the beef, and the sticky rice.