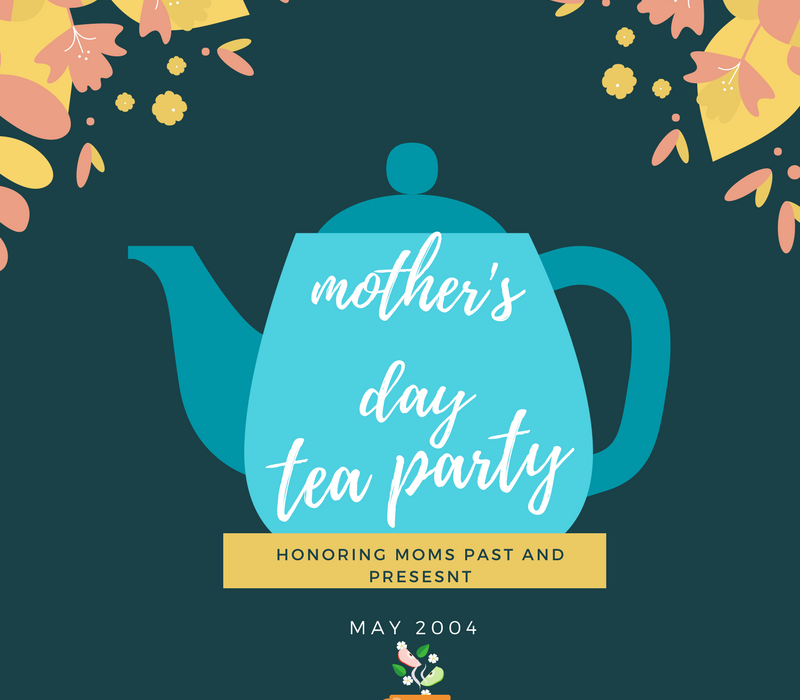 Every Mother's Day, my brothers and I try very hard to make my Mom feel special. We buy her gifts, take her out, spend time with her, and make her favorite foods. We just love making her feel appreciated. Of course, we always want to do something different each year. So for Mother's Day 2004, I hosted a tea party at our home.
My inspiration for the tea party came from two sources. First, my mother has a nice little teapot collection. Her collection is a mixture of floral, traditional, and Asian. She uses them periodically throughout the year when she is in the mood for tea or has company over. So I thought the tea party would give her a chance to share her love for tea and teapots with family and friends.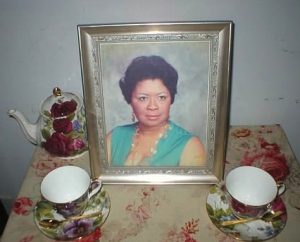 AUNT JEAN
My second source of inspiration came from a story told to me by my Mom. Apparently, my mother's godmother, Aunt Jean, had a vast teacup collection in her china cabinet. Aunt Jean's collection expanded over the years due to a tradition carried on by her own mother. According to the story, Aunt Jean's mother would purchase her a new teacup every year as a gift to add to her collection until she had a complete set. Although Aunt Jean had a beautiful collection, she never used them. Aunt Jean always wanted to host a tea party, but due to work, children, and other life events she never had the opportunity to use her teacup collection. Not to mention, she had three sons and no daughters to share the tradition with. My mother was the closest thing she had to a daughter. Therefore, she shared the story with my mom. Who in turn, shared it with me.
About a month before Aunt Jean passed away, she had purchased me a lovely rose covered teacup. Even though it wasn't my style, I loved the sentiment behind the gift. I also felt special because she decided to continue the tradition with me since she didn't have a daughter to pass it on to. Of course, this was to my mother's dismay because she was the one into teacups and pots.
My mother gave me the cup and shared the story behind the gift with me on my birthday. I called and thanked Aunt Jean for the wonderful gift and told her I would definitely use it. After I received the gift, Aunt Jean made my mother promise that she would complete my collection. My mother fulfilled her request a few months later and purchased the rest of the collection for me as a Christmas gift.
A few months later, I was trying to figure out what to do for Mother's Day. After cycling through several ideas, I finally came up with the tea party idea. I thought it was tragic that Aunt Jean passed away without ever using her teacups. I didn't want my mother having the same regret. So I thought a tea party would be a great way to use her teapot collection and honor Aunt Jean as well.
Initially, I wanted it to be a surprise party. Unfortunately, it is difficult to plan a surprise party when you live in the same house with the person you are trying to surprise. Ultimately, I decided to let Mom in on the tea party plans. It actually worked out better that way because it gave her something to look forward to and kept her busy with planning. Also, it was a great mother/daughter bonding moment. So it was a win/win situation for the both of us.
The planning process was fairly easy. First, we decided to have the party the day before Mother's Day in order to give everyone the opportunity to come enjoy the tea party, but still spend Mother's Day with their own family and friends. Then, we wrote out our guest list and sent out invitations. Everyone on our guest list was eager to attend the party because they had never been to a tea party. So we had plenty of people to entertain the day of the event.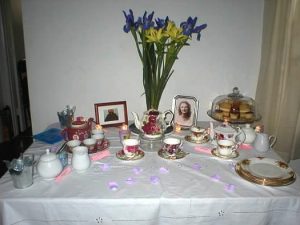 VIGNETTE 1
The next part of the planning process was to come up with a menu that was fitting for a tea party. We had finger foods like cucumber sandwiches, fruit, tea cookies, etc… Additionally, since no two teapots in Mom's collection are alike, we decided to set up different vignettes for each type of teapot. We also decided to have different types of tea in each teapot in order to have a variety of flavors for guests to try.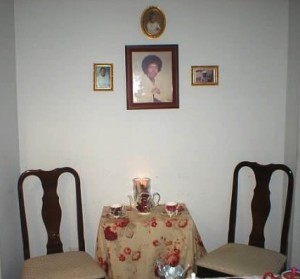 VIGNETTE 2
On the day of the tea party, things went as planned. Some of our guests brought their own moms to participate in the festivities. In honor of the moms that were no longer with us, pictures were shared in their memory. My brothers contributed to the event by being helpful throughout the day. They helped set up all of the tables and chairs, greeted guests, and made sure they were available whenever we needed them.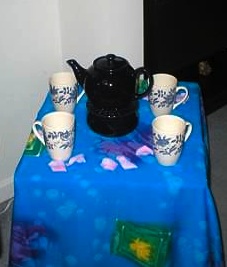 VIGNETTE 3
At the end of the tea party, we gave guests a cute party bag filled with items that my mother loved from her childhood. The items ranged from a set of jacks to old school candy. Overall, the tea party was a success and everyone had a nice time. I definitely would suggest having a tea party for your next Spring event. It's a unique way to spend time with family and friends.