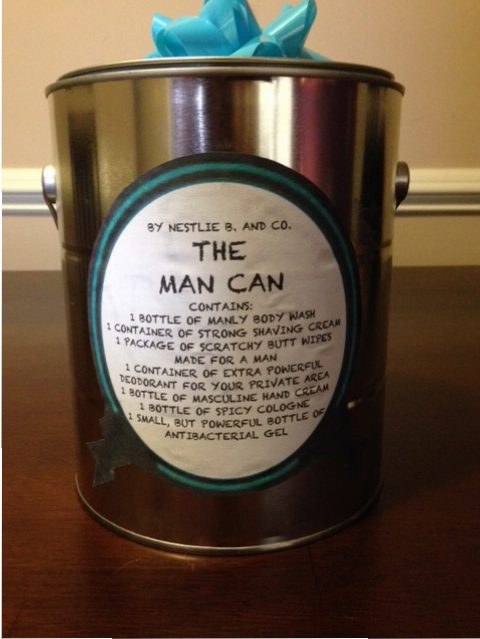 Each year I pride myself on the fact that I'm able to come up with something new and different to present to a family member. Christmas 2015 was no exception. The Man Can idea came about because I was searching for a unique gift to give to my baby brother Kahlil for Christmas. I did not want to disappoint my brother this year by giving him a generic gift. So I searched high and low for gift ideas specifically geared towards men. In my search, I stumbled upon quite a few websites that had uncommon gifts for both men and women. When the Man Can idea popped up on my screen, I knew it was the one I wanted to create for Kahlil.
I loved the Man Can idea immediately. I even found a few websites where I could purchase one as a gift. However, I really wanted to personalize it for my brother and his tastes. So I decided to scour the internet to find variations of the Man Can gift. Many of the sites offered the same items from cologne to soap. Even though the cans looked really nice, I wasn't sure if my brother would like the smell of the items that were placed in the can.
So after spending a lot of time researching the idea, I decided to create my own version of the Man Can. The idea seemed simple enough. I just needed to purchase a paint can and place some thoughtful items inside. I know my brother pretty well, so this wouldn't be a hard gift to create. Easy peasy.
First, I ventured out to the hardware store to purchase a paint can. Places like Home Depot and Lowes have an entire paint section where you can find a paint can to fulfill your needs. I also made sure I bought a paint can opener to tape to the top for my brother to use when he opened his gift.
Next, I had to figure out what to put inside of the can. I decided to visit Bath and Body Works in order to purchase a few quality products that were made for men. After smelling what seemed like hundreds of scents, I settled on body spray, cologne, body wash, shaving cream, hand cream, and hand sanitizer. To round off the gift, I added dude wipes and a bottle of deodorant geared towards a man's private area.
After gathering all of the components, I had to put everything together. I designed my own labels for the front and back of the can. I based the label on the design I saw for the original idea on the Plumb Island Soap Company website. I made sure I put manly descriptions of each item on the back and a cool logo on the front. It took me awhile to get the size and color just right, but in the end, it was worth it. I carefully added all of the items to the can. It wasn't easy because I had quite a few items to place in a small container, but somehow I made it work. Finally, I topped it off with a bow.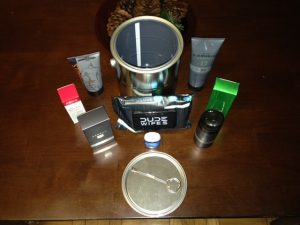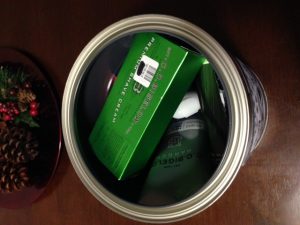 When I presented the gift to my brother, he was completely surprised. He loved it. Every item that I chose for the gift was perfect. I'm glad that I decided to personalize the can versus purchasing one that was pre-made. It made it special and customized just for him. After coming up with such a cool gift, I don't know what I'm going to create next year to top it.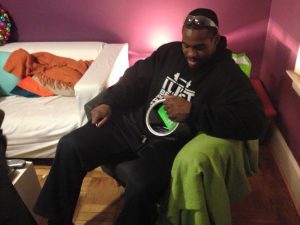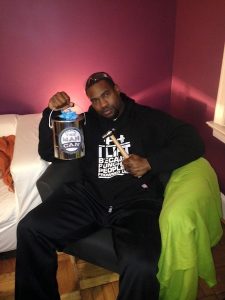 Check out the list below for links and information on how to create your own Man Can.
MAN CAN GIFT ITEMS
Paint Can and opener
Bath and Body Works Items – Noir For Men body spray, Elixir Black cologne, C.O. Bigelow shave cream, hand cream, and antibacterial gel
Fresh Balls tube (hygiene for the groin area) – Amazon
Dude Wipes (for use after toilet paper) – Amazon
ORIGINAL IDEAS