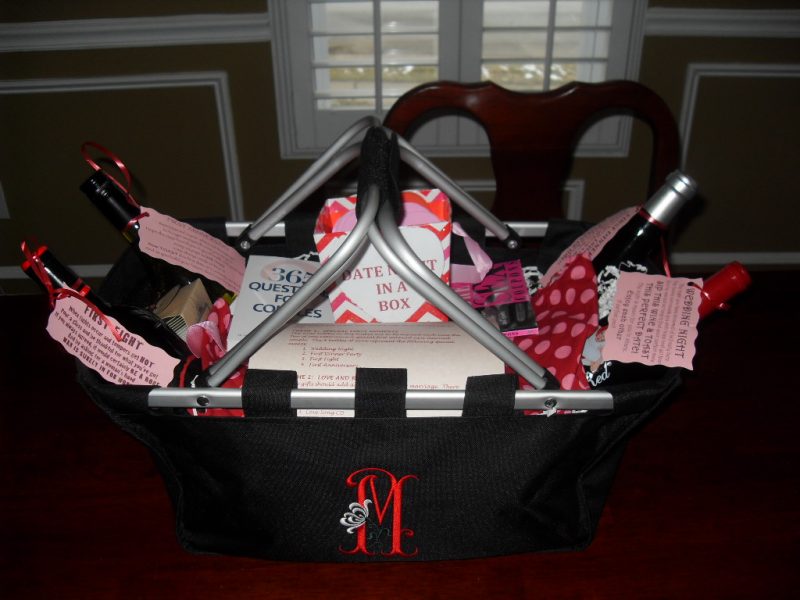 I recently attended a bridal shower for my good friend Marguerite.  She and I have been friends since we were 12 years old.  So you know I had to make her a wonderful bridal shower gift to celebrate her upcoming nuptials.
Usually, when I attend bridal showers, I try not to buy kinky items or lingerie because not every bride is into those kinds of gifts.  Plus, I don't always know their tastes when it comes to those items.  Therefore, I try to be more creative with my gift choices for a bridal shower gift.  Since my friend is a foodie like myself and the theme for the shower was "Recipes for Love",  I created a basket that incorporated her love for food mixed with items that were romantic in nature as well.  The basket had three themes:  Special First Moments, Love & Romance and Domestic Diva.
As usual, I found something on Pinterest that I wanted to incorporate in the basket.  First, I included wine bottles in the basket for the couple to drink during major events (first dinner party, first fight, the wedding night, etc…) that they will experience during their first year of marriage.  I found this idea on a website called Occasions.  They have a tutorial as well as poems that matched each major milestone.
Second, I created a date night box that contained date night ideas ranging from cheap to expensive.  I found this idea on a website called Life In The Green House.  The original idea was called "Date Night In A Jar".  However, I didn't have a jar or popsicle sticks.  So I made mine in a box decorated with hearts.  It worked and turned out pretty cute too.
The following items were used for each theme of the basket:
Special First Moments – Assorted wine bottles with poems
Love & Romance – Scented candle, box of date ideas, love coupon book, love song cd,  & 365 Questions for Couples book
Domestic Diva – Sexy apron, recipe cards & a monogrammed hand basket (made of canvas and monogrammed with her first initial)
The bridal shower gift was a hit at the party.  My friend really enjoyed her gift and many people at the party were impressed with the love and attention I put into creating this gift for my friend.  So try this idea out.  It will be a big hit at the next bridal shower you will attend.